PAT DAVISON AND FAMILY
HAVE BEEN BRINGING THEIR
ONE-OF-A-KIND, FAMILY-ORIENTED
LAUGHS AND THRILLS
TO RV RESORTS IN THE RIO GRANDE VALLEY, FLORIDA AND ARIZONA FOR MORE THAN 25 YEARS!

SEE IF YOUR PARK IS ON THIS LIST!
Alladin Villas, Mission, TX
Alamo RecVee, Alamo, TX
Bentsen Grove, Mission, TX
Bentsen Palms, Mission, TX
Bit O' Heaven, Donna, TX
Bluebonnet RV Park, Mission, TX
Canyon Lake, Mission, TX
Casa Del Sol, Donna, TX
Casa Del Valle, Alamo, TX
Chimney Park, Mission, TX
Circle T, Mission, TX
Cottonwood RV, Mission, TX
Country Palms, San Juan, TX
Country Sunshine, Weslaco, TX
Eastgate, Harlingen, TX
El Valle Del Sol, Mission, TX
El Dorado Acres, Mission, TX
Emerald Grove, Harlingen, TX
Fiesta Village, Mission, TX
Fig Tree Resort, Harlingen, TX
Fun 'N' Sun Resort, San Benito, TX
Green Gate Grove, Mission, TX
Heritage Square, Mission, TX
Isla Blanca Park, South Padre Island, TX
J-5 RV and Mobile Park, Mission, TX
Lemon Tree Estates, Mission, TX
Lemon Tree Trailer Inn, Mission, TX
Llano Grande, Mercedes, TX
Magic Valley RV Park, Weslaco, TX
Magnolia Park, Donna, TX
Mission Bell Resort, Mission, TX
Mission West, Mission, TX
Oleander Acres, Mission, TX
Orange Grove RV Park, Edinburg, TX
Palmdale RV Resort, San Benito, TX
Park Place Estates, Harlingen, TX
Pine to Palm Resort, Weslaco, TX
Restful Valley Ranch, Mission, TX
Rollin' Home Park, Mission, TX
Seven Oaks, Mission, TX
Siesta Village, Weslaco, TX
Sleepy Valley Ranch, Mission, TX
Southern Comfort, Weslaco, TX
Split Rail RV Resort, Mission, TX
Sunlight Trailer Park, Mission, TX
Sunshine RV Resort, Harlingen, TX
1015 RV Resort, Weslaco, TX
Texan Mobile Home Park, McAllen, TX
Texas Trails RV Resort, Pharr, TX
The Fountain at Penitas, Penitas, TX
Tip O' Texas, Pharr, TX
Trophy Gardens, Alamo, TX
Tropic Star, Pharr, TX
Tropic Winds, Pharr, TX
Tropical Valley Acres, Mission, TX
Twin Lakes, Mission, TX
Valley View, Mission, TX
Victoria Palms, Donna, TX
W & I Resort, Mission, TX
Wagon City North, Mission, TX
Wagon City South, Mission, TX
Winter Green Estates, Mission, TX
Winter Ranch, Alamo, TX
READ THIS REVIEW OF THE SHOW AT THE
BRAUGHT MEMORIAL THEATER IN WESLACO, TEXAS...
"FUN!" is the best word to describe the show at the Braught Memorial Theater in Weslaco Saturday afternoon!
"The MILLION DOLLAR FAMILY COMEDY SHOW" provided laughs and excitement for a happy crowd at the intimate and immaculate showplace in downtown Weslaco.
What is "The MILLION DOLLAR FAMILY COMEDY SHOW"? Pat Davison and the Davison Family Jugglers is a group comprised of dad, mom and their daughter, 13-year-old Mabelle Davison. They do Comedy Juggling, Comedy Magic, Unicycling and Hula Hoops in a fun variety show that had the folks laughing and biting their nails, as the whole family got into the act.
They also had the audience very involved in the presentation of some mind-boggling magic and hilarious (and clean!) comedy routines. Big laughs and good taste were served up in copious amounts.
My question was, "What is their background: Circus, Vaudeville, Theaters?"
The answer, in Mr. Davison's words, "All of the above!"
The answer in the minds of the audience was, "Who cares! The show was great and we had a great time!"
I must admit, it was definitely a refreshing change from the steady diet of musical programs flooding the circuit this time of year! Watch for repeat performances in the area next season.
...AND READ THIS REVIEW FROM THE BORDER THEATER IN MISSION, TEXAS...
Where is Ed Sullivan when you need him?! He should have been at The Border Theater in Mission, Texas last evening to catch
"The MILLION DOLLAR FAMILY COMEDY SHOW!"
As a part of the theater's policy of live entertainment in addition to its schedule of films and concerts they presented "Pat Davison and the Davison Family Jugglers" in their
unique and enjoyable variety show.
The cast is Pat Davison along with his vibrant wife, Marites, and talented daughter, 13-year-old Mabelle.
There is never a dull moment, and those in attendance barely had time to catch their breath between
laughs and thrills during the 70-minute show.
Davison displays his skills as a comedian, juggler, magician and acrobat, working well with audience participants on stage. Mabelle's charisma charms audience members while she does an unusual act with hula hoops, rides her tiny unicycle and even does a comedy magic routine with her dad
that had the audience scratching their heads.
Throughout the show Philippines-born Marites adds beauty and grace as she assists her family and joins in the juggling.
Comments heard as the crowd left the theater were unanimously favorable. If you missed the show, watch for them at The Border Theater next season.
I'm sure they'll be brought back for a repeat run.
...AND HERE'S WHAT THEY SAID IN BRANSON, MISSOURI AT
THE GRAND COUNTRY MUSIC HALL!!!
"One of the most enjoyable shows in the 'Other Entertainment Capitol of the World', Branson, MO is The Comedy Pet Theater running for the season at the Grand Country Music Hall...."
"Very visible in this year's edition is the multi-talented Davison Family: Pat, wife Tess and 10-year-old daughter, Mabelle..."
"Pat's engaging personality is evident as he smoothly handles the Emcee duties and introduces such stellar performers as The Darnell's Doggies, Obarka's Exotic Birds, Maya Panfilova's Trained Housecats (these comprise the "Pet" portion of the show) and the father-daughter team of Andre and Alisa, quick change artists..."
"The 'Comedy' portion of the show is handled in easy-going fashion by Pat Davison as he elicits huge laughs and screams with his Comedy Juggling, Comedy Magic, and even a mindreading Raccoon!"
"The first half of the fast-paced variety show closes with the entire Davison Family in their delightful Unicycle Act. Father and daughter capture the hearts of the audience as they spin around the stage on their one-wheelers. Ten-year-old Mabelle is a real charmer! Dad continues to get laughs with his ad libs and one-liners, but they get gasps during their finish trick when little Mabelle stands atop her daddy's shoulders while he is on his unicycle, and she spins several hula hoops!
"This reviewer joined the audience in a standing ovation for this versatile family of entertainers!"
"The Davisons opened the second half of the show with their Balancing Act, on a device called a 'roly-boly'. Audience members were seen holding there breath throughout this suspenseful turn..."
"Refreshing...my family enjoyed it more than the Chinese Acrobats".
IT'S TIME TO ADD YOUR RV RESORT TO THE LIST!
CALL NOW SO YOU CAN HEAR THE LAUGHS, AND "OOH'S AND AHH'S" FROM YOUR PATRONS!!!
Did you know... the Davison Family presents
a fun, popular...and DIFFERENT... evening show for
RV Resorts?
CLICK HERE to see live comments from our audiences!
CLICK HERE to see MORE audience comments!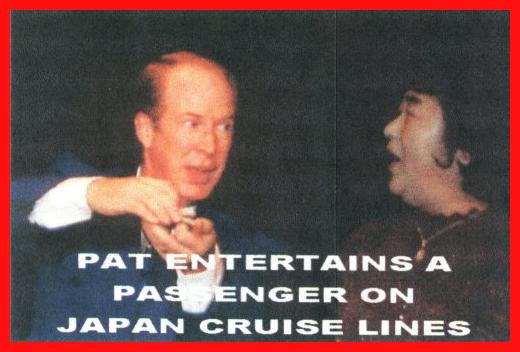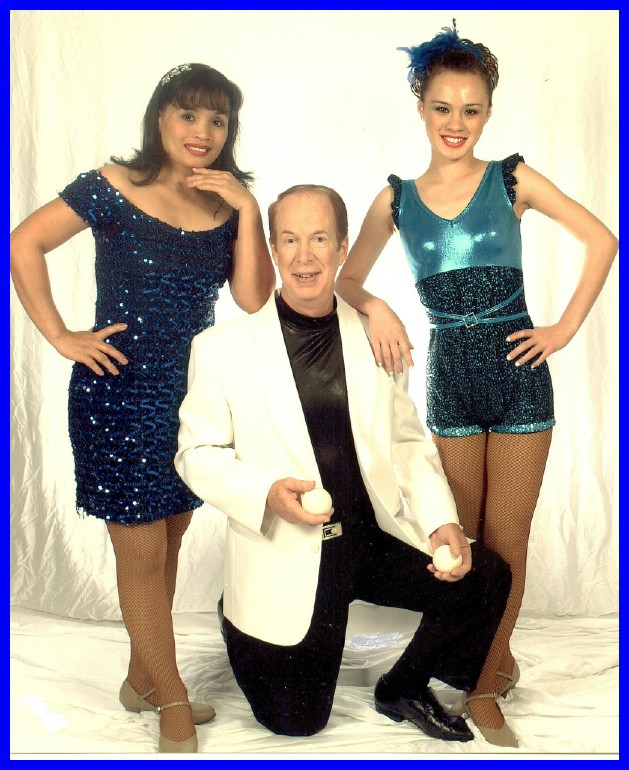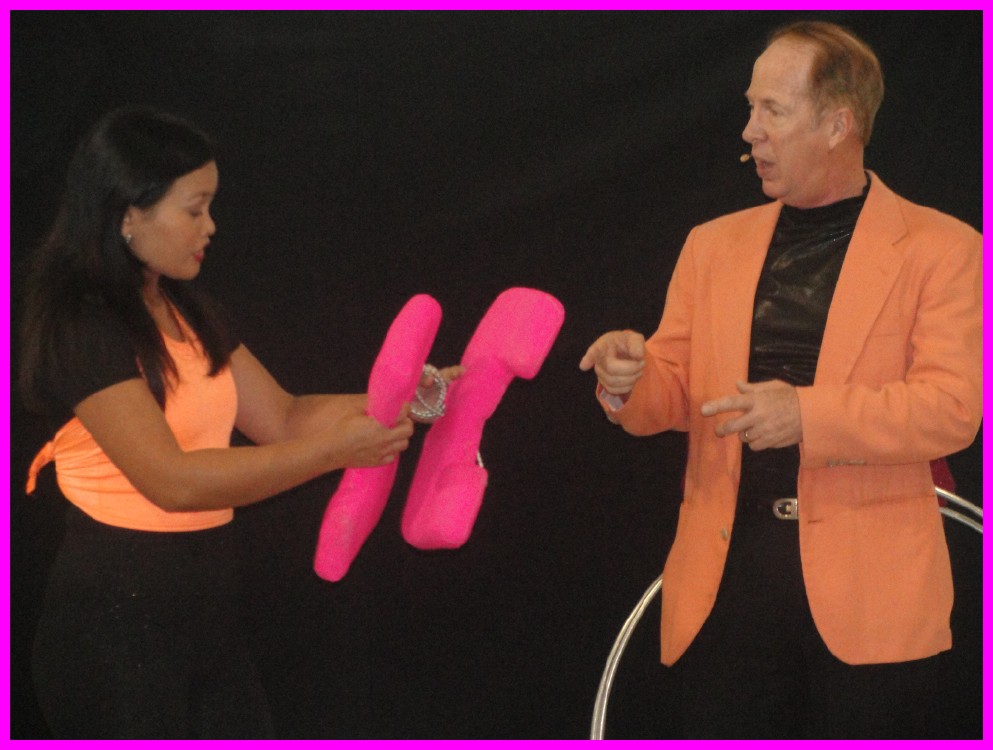 Audience Participation is an important...and fun...feature of these
unique presentations!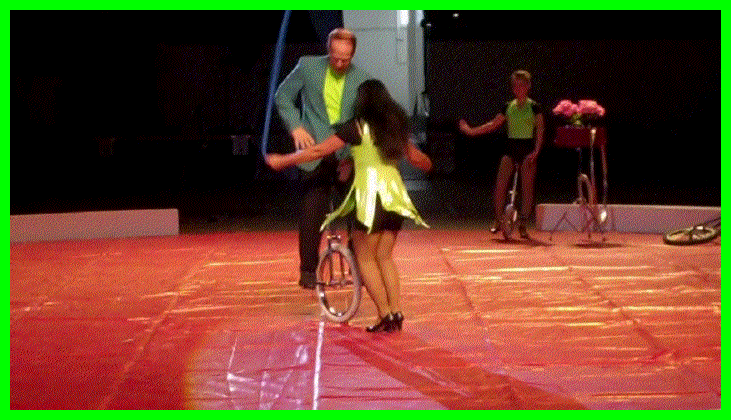 This show is one of the best kept secrets in the Rio Grande Valley!
Featured in Circuses and Variety Shows everywhere for more than 40 years, including "The Comedy Pet Theater" in Branson, Missouri and "The Statler Bros. Show" on TNN, their full evening show is available to entertain at RV Parks!
For more than 25 years Winter Texans have been calling Pat Davison's Super Comedy Show "The best show we ever saw!"
They combine all of their Comedy and Skills (not to mention their charm and charisma) into a unique show that results in a fun evening!
They tickle the funny bones of the Winter Texans like no one else can!
They make sure the entire audience is part of the fun AND...
...THEY PROVIDE A WELCOME CHANGE OF PACE
FROM THE MANY MUSICAL PROGRAMS!
The usual length of the show is 1 hour and 10 minutes, but can be longer or shorter if you like.
The program typically includes:
"The World's Youngest Performing Unicyclist"!
Side-Splitting Comedy Juggling!
Eye-Popping Magic!
Amazing International Circus Stars!
Dazzling Hula Hoop Artist, "The Texas Tornado"!
"Rocky", the Mind-Reading Raccoon! (Yes, a Mind-Reading Raccoon!)
PLUS...you will see your friends and neighbors on stage in Fun Audience Participation Routines!
In other words, you will enjoy a Fun-filled Variety Show presented by Professional Entertainers who have appeared around the world and on National and International Television shows such as:
"Steve Harvey's BIG TIME!" on The Warner Bros. Network,
"Sabado Gigante!" on Univision,
"The Statler Brothers Show" on The Nashville Network,
"CIRCUS!" on Canadian National Television,
"Bozo's Circus" on WGN-TV, Etc., Etc.
IT'S THE ONLY SHOW OF ITS KIND
AVAILABLE IN THE STATE OF TEXAS!
DON'T MISS OUT ON THE FUN! CALL NOW!!!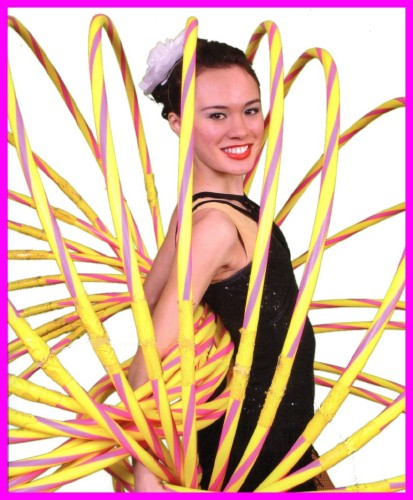 CALL NOW TO SCHEDULE A DATE
FOR YOUR SEASON
BEFORE OUR CALENDAR IS FULL!
PAT DAVISON
612-597-7797